.
.
.
Announcement from John R. Calo, Monday 12|11|17:
"Kate Thomas recorded a DVD of the latest Christmas Concert. I have them for sale. There are 2 discs, one disc has all of the chorus selections and the other has the solos and ensembles. The cost for the double disk recording is only $5.00. [Buyers] should call first and then pick them up at my home. 812 Hamilton, Kingsford. Call 906-774-6631. The CDs are not in yet. I'm hoping for [this] week on those."
~ ~ ~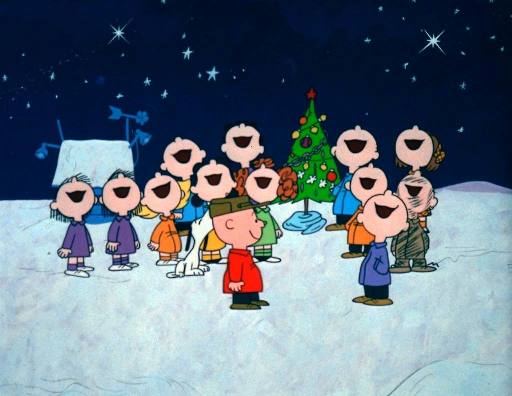 Caroling, anyone?
Present, past, and wannabe members of Dickinson County Community Chorus.
1.) Midtown Mall, Iron Mountain | 6:30 p.m., Friday, December 15
2.) ManorCare, Kingsford | 2:00 p.m., Monday, December 18
A couple dozen singers are signed up for each event so far. Community Chorus will provide song-sheets of simple Christmas carols (no arrangements). Message Crystal Peterson Hogan at Facebook to sign up or email her at crystalhogan@communitychorus.org.
~ ~ ~
"

Congratulations

, thank you, and way to go, Dickinson County Community Chorus, for a terrific Christmas concert tonight. The full house was a terrific audience tonight, too, and that always adds to the electricity of the event. Thereíll be a lot more pictures to follow soon, but meanwhile I think everyone involved is in one or both of the two large-group photos here. John asked for a photo of Community Chorusís three current directors, so, from the left: Crystal Hogan (princip

...

al), John Calo (assistant and principal emeritus), and Gail Vornkahl (associate). The two smiling and lovely young women in the fourth picture were just a couple of passersby the camera jumped out of my hands of its own volition and took a picture of by itself. :-) Actually, the one on the right is Ruth Knutson and she was the concertís accomplished harpist. On the left is her sister Beth (in the audience tonight, but an accomplished musician herself.) Tuesday is DCCCís final performance of The Sounds of Christmas 2017 at Kingsford High School at 7:00 p.m." (Post-performance Facebook posting, Monday, November 27. Click on or tap on the following pix to see the concert's photo album.)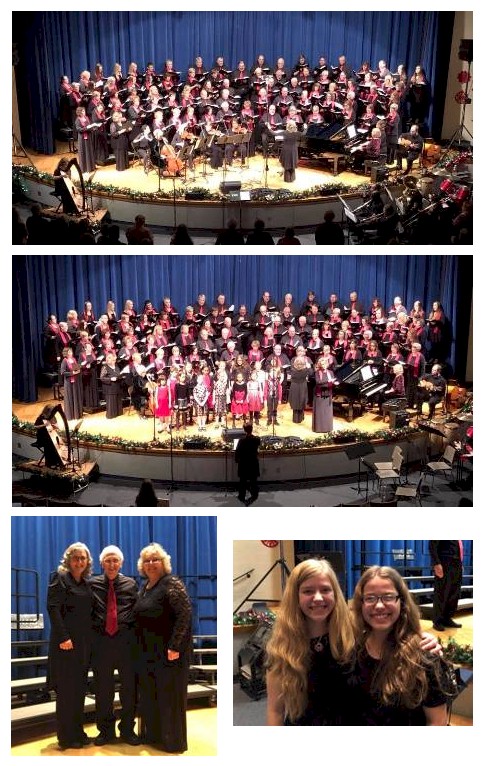 ~ ~ ~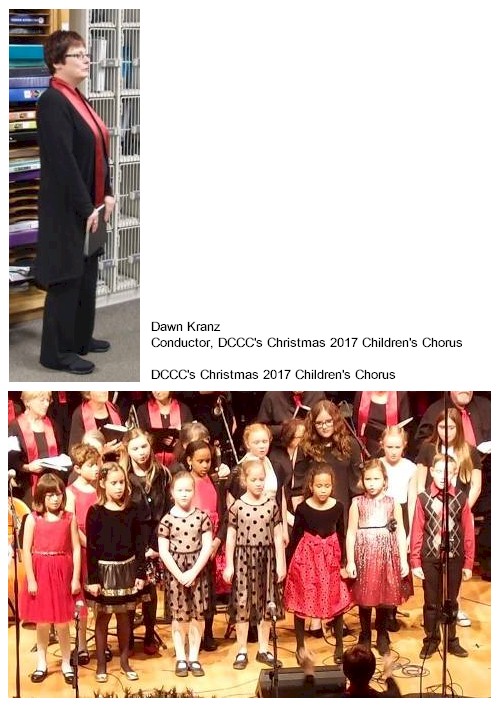 ~ ~ ~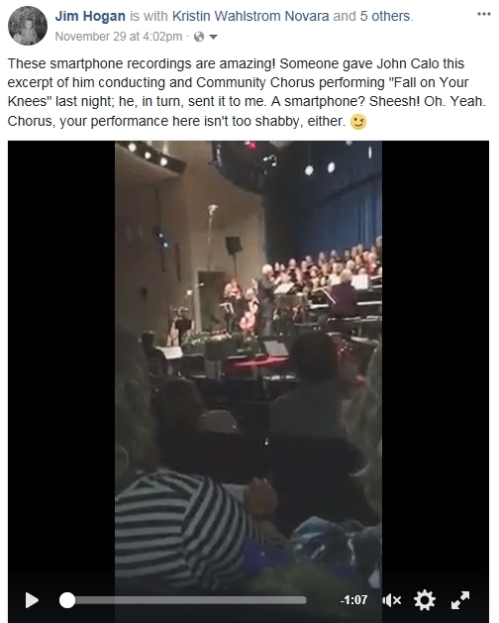 . . .