Congratulations, bravo, and thank you, Chorus!
For all six of your terrific performances this summer.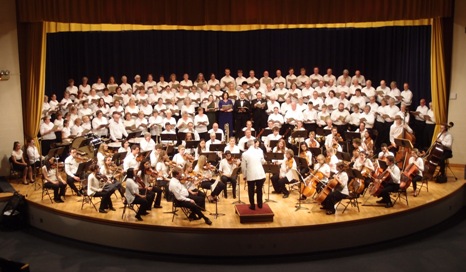 Video excerpts for Dickinson County Community Chorus.
To give you an idea of what you looked and sounded like at Thursdayís Kingsford performance, here are three video excerpts from the Fourth Movement of Beethovenís Ninth, 16 July 2015, KHS Auditorium. DCCC / PMMF. Personal cellcam recordings for noncommercial, archival, educational, informational, acoustical, technological-learning, and related usages. Performers/participants, please use them for only the same reasons (no selling them for thousands of dollars each). Iím posting the excerpts to a YouTube miscellaneous account because of their size; itís easier to store, refer to, share, and access them at YouTube.
Please pardon the jiggle, wobble, sway, and bounce. I had no stand for the camera and nothing to rest my arms on. My arms began to tremble often and noticeably from holding them above my head for any length of time. Thus, the movement.
Excerpt No. 1: https://www.youtube.com/watch?v=UqGp2m_G5Rg
Excerpt No. 2: https://www.youtube.com/watch?v=QQe65sUVdbw
Excerpt No. 3: https://www.youtube.com/watch?v=Fwz77uTGqXI
∑ ∑ ∑
Rehearsal & Performance Revised Schedule & Notes; Beethoven's Ninth
Symphony No. 9 in D minor, Op. 125
By Ludwig van Beethoven
A.K.A. "The Choral" and "Beethoven's Ninth"
In association with Pine Mountain Music Festival.
Details are here. Also Concert Under the Stars and Out to Lunch.
_________
∑ ∑ ∑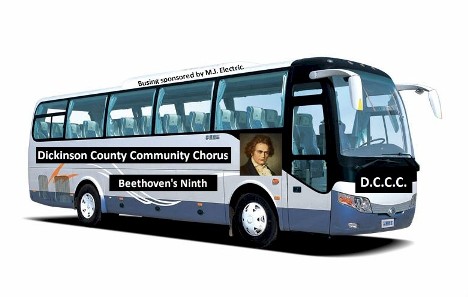 On behalf of Dickinson County Community Chorus, Principal Conductor and Musical Director Crystal Hogan extends her thanks to M.J. Electric for its donation of $2,600.00 to underwrite D.C.C.C.'s busing expenses this summer for the rehearsal and performance of Pine Mountain Music Festival's presentation of Symphony No. 9 in D minor, Op. 125 by Ludwig van Beethoven. Thank you, as well, chorister Joe McKindles, for acquiring this generous gift from M.J. Electric.