Celebrating the Chorus's 50th Year!
_____
Music Under the Stars 2017
Annual Dickinson County Community Chorus Summer Concert
DCCC Principal Conductor Crystal A. Hogan
Lake Antoine Park
Sunday Evening, July 9
Also Featuring the Dickinson County Area Band
DCCC rehearsal begins 7:00 p.m. CDT, Tuesday, May 9, at First Presbyterian Church in Kingsford, Michigan, and will continue at the same time and place until the concert unless otherwise announced. Can you sing chorally? Then, please, join -- new members are always welcome.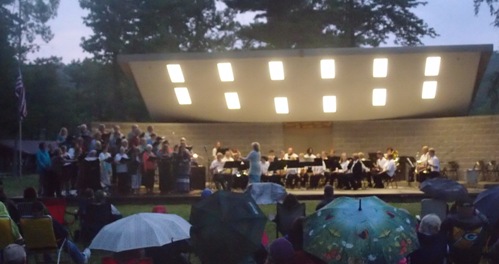 _____
April 11's performance? Amen. Congratulations and thank you, DCCC.
Winter and Spring Rehearsals, Performance
For the Ecumenical Holy Week Concert. Rehearsal begins at 7:00 p.m. CST on Tuesday, January 17, 2017, at First Presbyterian Church, Hamilton Avenue off Carpenter, Kingsford, Michigan. Associate Conductor Gail Vornkahl will conduct this performance. Rehearsal will continue to be at 7:00 on Tuesday at the church.
The concert-service will be at 7:30 p.m. CDT (Preconcert at 7:00) on Tuesday, April 11, 2017, at Saint Mary Church in Norway, Michigan.
. . .