Update: Sunday, 9 July 2017, regarding tonight's concert:

We're on! But with a few changes because of the stormy weather. Dickinson County Community Chorus will perform "Music Under the Stars 2017" at 7:15 p.m., tonight: Sunday, July 9, at First Presbyterian Church, 395 Hamilton Avenue (west off Carpenter Avenue and just east of the high school), in Kingsford. See you then and there!

Chorus, please assemble at the church at 6:00 p.m.
Music Under the Stars 2017
Annual Dickinson County Community Chorus Summer Concert
DCCC Principal Conductor Crystal A. Hogan
Lake Antoine Park
Sunday Evening, July 9, 7:00 p.m. CDT
Also Featuring the Dickinson County Area Band
DCCC rehearsal begins 7:00 p.m. CDT, Tuesday, May 9, at First Presbyterian Church in Kingsford, Michigan, and will continue at the same time and place until the concert unless otherwise announced (see additional info down the page). Can you sing chorally? Then, please, join -- new members are always welcome.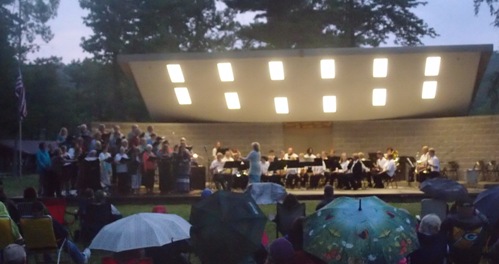 _____
Info about
2017 Iron Mountain / Kingsford Fourth of July Parade
To any DCCC member and former student of Mrs. Hogan: Even if you are not singing with us for the summer you are more than welcome to be in the parade -- we have room for only 2 or 3 more people in the trailer, so let me know if you need to ride in it. Just show up if you can walk alongside the float.
July 4th Parade
Meet by Donna's Dance Studio on Pyle Drive in Kingsford. Wear red, white, and blue. Bring a small folding chair if you will need to sit on the float. Four people can use the stools already on the float. We are singing "You're a Grand Old Flag" and "God Bless America." Memorize the lyrics if possible. Print them for yourself if you need them. Or use this site if you have a cellular-data device (e.g., an iPhone). We will have small megaphones to project our voices.
Schedule
7:30 a.m. finish decorating.
8:00 a.m. meet by this time so we can get in the line-up. If you arrive late you may have to look for us on Pyle drive.
9:00 a.m. parade begins. The parade ends at SuperOne in Iron Mountain, across from the V.A. campus. We will put as many people in the trailer and truck as possible for the ride back to Pyle Drive, though you might want to arrange to be picked up at SuperOne.
You're a grand old flag,
You're a high flying flag
And forever in peace may you wave.
You're the emblem of
The land I love.
The home of the free and the brave.
Ev'ry heart beats true
'Neath the Red, White and Blue,
Where there's never a boast or brag.
Should auld acquaintance be forgot,
Keep your eye on the grand old flag.
(Twice through -- slow down at the end.)
Land that I love.
Stand beside her, and guide her
Thru the night with a light from above.
From the mountains, to the prairies,
To the oceans, white with foam
God bless America, My home sweet home.

(Twice through -- slow down at the end.)
Remaining Summer Rehearsal/Performance Schedule
No rehearsal on Tuesday, July 4th.
Final rehearsal -- Fellowship Hall, First Presbyterian Church, Kingsford; 7:00 p.m.
Presbyterian church service.
8:15 a.m. meet in the choir room.
9:00 a.m. service begins . . .
We will sing "
I Will Sing with the Spirit" (anthem) and "Up Above My Head" (offertory).
5:15 p.m. set up risers (need helpers for this).
5:30 p.m. warm-up and sound check.
. . .
Band will play for 20 minutes
. . . DCCC:

"I Will Sing with the Spirit"
Shirley Schultz: "How You Gonna Keep 'Em Down on the Farm?"

Dan Giordanelli: "Anthem"
Jan Cayemberg and Kaye Miziniak: "Hallelujah"
Erin Leaf: "Moon River"
. . . DCCC:
"The Music Man"
. . .